Excuses given by others for not keeping their word or for not doing what they promised, we are all familiar with them and they would stick out like a sore thumb. Here are some of the familiar excuses that you could hear people say:
"I am sorry I'm late it is raining and everyone is late too."
"I'm just constantly in a bad mood to do anything."
"I don't know how to do it so I'm not going to do it."
"I'm just lazy."
"If my parent-in-law has been supportive, things won't turn out this way!"
"Why can't the taxi driver just speed up? I'm running late!"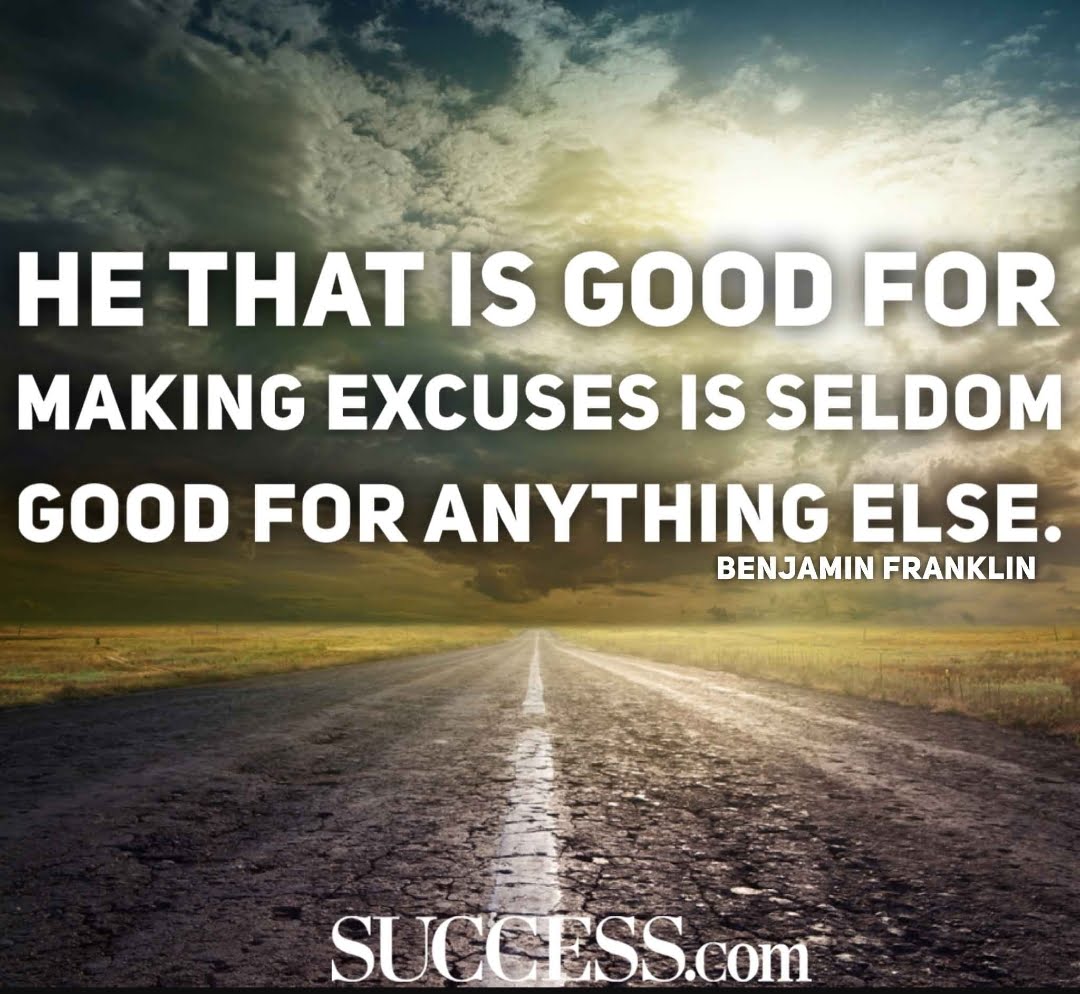 In the excuses above, there are two components involved and they are
-fear
-blame
Typically we give excuses because we do not want the other person to have a bad impression of us. We fear their judgement or we fear hurting others for not being able to keep to our promise or we don't want others to see us as a failure for not being able to live a meaningful joyous life.
We would blame those around us and even the innocent, such as the taxi driver and if you are a parent we sometimes blame our babies or toddlers. If you left home late or woke up late, it's not the driver's fault. Even if you cannot get a taxi right away, the taxi driver has got nothing to do with you being late. You didn't have a backup and if it's morning rush hour demand for taxis may exceed supply.
When you can think ahead and you know you are not ahead of things then it's no surprise when things didn't work out.
What about others who ruined your plan or tried to control your life? Such as in-laws, our boss, colleagues or spouse? Sometimes when we've been around the person long enough, the outcome being around the person of a certain behaviour would be predictable such as disappointments, arguments and misunderstandings. If you want to stop this cycle, notice what are the actions that you repeat around them that allow the person to continue to mistreat you? Often this is a blind spot, meaning, it's hard to see unless you work together with a life coach to identify them.
What if you don't know how? We live in a world where information are at our fingertips especially when it is something 'googlable' such as how to get from point A to point B or how to cook a dish and etc. Yet, I've seen too many people still giving convenient excuses as I don't know, in other words, I don't care or I don't bother to find out and I want you to do it for me. 😂
Laziness could also indicate that you are probably masking a fear. Again, it's often a blind spot and we thought that we are genuinely lazy. If being lazy has been your common theme in life, you may want to begin confronting it because life is exciting and you don't want to miss out on the excitement beyond just your laziness.
Sometimes in our lives, we meet people who are constantly in a bad mood and they would just snap at people and this resulted in bosses being afraid of their employee, their family avoiding them and friends felt obliged to listen out of fear and yes, they are always in a bad mood because life has not been going too well for them and they felt as if everyone around them were out to try to get at them.
I've dealt with such individuals before in fact even coached some of them who are always not in the mood and the great thing is that when they saw an opportunity to stop being always in a bad mood or grouchy and see people in a new light, they transformed and they became joyous than never before. (True story!) So no excuses for treating others with disrespect just because you are in a bad mood, this applies to my mood swings that I used to get so frequently during my PMS. Forgive yourself and find ways to work things out. I can support you.
I'm at the stage of my life where I can easily sniff out excuses and I can also recognise my excuses too and yes, it's through all the trainings I've received to being a life coach.
The thing is not many people have self-mastery in being able to recognise their excuses and taking full responsibility for the excuses that they've been bought into and at the expense of consistently missing out in life and it's opportunities as well as personal growth.
Let's have a chat and let's identify what's underneath the excuses that you may have about your situation.
Book a discovery call now. No excuses this time. You got nothing to lose here.