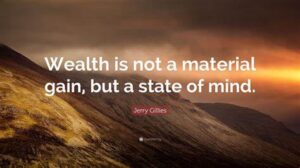 Society would often recognise seemingly hardworking individuals, who spend years and years working, saving money, etc. and those who are taking visible actions are those who are deemed as well deserving of the success that they have. No doubt about this. Hard work, hustling and grinding could lead to success too and usually at the expense of health and more.
In personal development or spirituality, we put a lot of effort into inner growth. Meaning the work is done internally, no one can see or verify your actions but the results can speak for themselves. Yet, many would say wow! You are just lucky.
I've witnessed several individuals in my life who would have all the material success that most would want, without the need to do the work physically or laboriously in the traditional sense.
They spend their years working on their personal growth and mindset and they focus on doing the right thing listening to their intuition and pursuing a path that's meant for them and they would find joy in what they do even when society didn't see the work that they do as a definition of success, in society's words these people just got lucky.
One of these individuals was my dad. My dad could easily follow the path of academics and the path of those who have titles and designation because he was a smart man, both on paper and with wisdom.
He chose the path of inner peace and he worked hard towards doing what he stood for, focusing on watching the words he said, his demeanour, his diet, his circle and most importantly he lived his life with immense gratitude. It's through his character that he attracted all the abundance in his life and he didn't even ask for it.
The abundance in his life is just outer-worldly that you cannot grasp how one man could get so much abundance in life.
I've been inclined towards this path and my dad was my role model and I saw how developing our character and personal growth will attract opportunities and the right channel that would serve our purpose. The lesson is, be steadfast in everything that you stand for in life and life will align itself and surprise you with wonders that you least expect and this is what's happening to me too. I'm a life coach and I am also caring for my toddlers at home, I didn't need to stress myself up and thought I needed to rush things to get results, with inner peace, the more you slow down, the more clarity you get and the more precision you make in your actions.
Here are the practices that you can begin to kickstart your habit to have an abundance mindset
Immense gratitude
You need to begin appreciating the things that you have and stop focusing on the things that you do not have. Be grateful for every little thing in your life each moment even during struggles and challenges.
Visualise the good things in life that inspire you
Visualisation is the key to manifesting the good in life. Visualise and feel as though you have already accomplished what you've ever wanted in your life. I can safely say that I am in the stage of my life where I am extremely contented with what I have and that's being close to my four children and fostering a wonderful and meaningful relationship with them. One with little to no conflict and disagreements and mutual respect, love and understanding. The goodness in my life doesn't stop here, more just keeps coming without me having to constantly actively ask or seek for it.
Let go of desperation
I understand that we want what we want and if our problems persist we become desperate. Acting out of desperation would often turn out awry and things could go further south. Acknowledging what you want would suffice when situations at that moment may not grant you an opening to see a way out. Go back to visualising and be open to seeing what inspiration or creative ideas might come up to bring you closer to what's important to you.
Let go of attachments
Sometimes we already got what we want and we become attached to them. In my case, my children. I let go of my expectations that things should only go my way. I know it's counter-intuitive to do this. It is important that we be grateful for what we have at this moment and allow life to show up and trust that whatever happens in our life is meant for our greater good. Beware though, this does not mean that you discharge yourself from taking full responsibility for your behaviour and actions around the things and situations that you currently have.
Try it out and if you feel stuck, engage me for coaching and I will be glad to guide you along.
So don't underestimate those who may be working as a security guard, cabby cleaner, etc. Because for all I know some of them are well off in so many ways that you probably didn't expect.