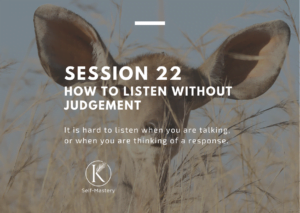 As human beings, we are given a pair of ears to hear and listen. Listening is a very important communication skill to have. Have you ever been so frustrated with another person for misunderstanding the words you said or when they had misconstrued the sentences that came out of your mouth or when someone misread
Read More »
Get a Free e-Book worth S$19
My personal growth journey started all the way back when I was a teenager and no matter how much I've grown, there would always be new sets of challenges to stretch me further. It was until when I met a wise woman I had clarity about what it means to grow, she was my mentor
Read More »
When I started a journey of self-discovery and now self-mastery, I had said to myself that I shall rid all the behaviours that no longer serves me. It's true what most people say, that once you embark on this journey, it can be messy. Think about it this way, you thought you knew this person,
Read More »
It is ok to dream and it is OK to dream big. We look around us and we see success stories of individuals whose results we can't possibly imagine for ourselves. We sometimes find ourselves saying, "if only I could be as smart as Elon Musk". "If only I could be as rich as Jeff
Read More »
Get a Free 30 min consultation
Book a FREE
30 Min
Discovery Call.
Book this appointment if you need to have a quick chat and strategise a possible plan to accomplish what is most important to you.