This topic is inspired by the recent news article from mothership.sg where they reported that many Singaporeans have turned to hobbies as a distraction during the pandemic since many of us are not able to travel to escape from our life here.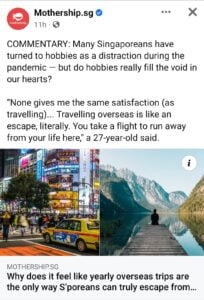 Why do we travel? We travel for different reasons and the majority of us travel to destress and break away from our usual routine in life.
There is nothing wrong with this and as human beings, we have different ways to destress and travelling happens to be a popular choice before the pandemic.
During the pandemic, we find ourselves cosying up at home watching movies with family, turning to hobbies such as cycling and hiking and some even take this opportunity to meet new people and catch up with friends.
These are all healthy alternatives. When we get involved with life and fill our lives with meaningful interactions and hobbies, we get to form new neural pathways for our brain and this could also support us to be resilient in life and form new and wider perspectives about our life.
What becomes troubling is when we rely on travelling and hobbies as a way to distract ourselves and to escape from our life, routines and responsibilities in hopes of filling the void that we feel within ourselves.
In doing so, problems would persist and we might find ourselves feeling as if we are stuck in this empty void for good.
Travelling and hobbies became a temporary fix that is almost equivalent to an insatiable addiction. It is like masking our inner sorrows or wounds in hopes that they were not seen or felt.
When you are in the path of practicing self-mastery, how you view your situation would either empower or disempower you in your life.
If we see our daily routines, work and responsibilities as the source of our stress, we would naturally want to escape or run away from them because we feel that we have no say, no power or no ability to create a shift or influence in those routines, work and responsibilities in a way that would make us feel fulfilled.
With a growth mindset, we see travelling or hobbies as a great way to recalibrate or recharge our mind and body to help us function well in life which includes all the stressors in life and not to escape from it because escape is an illusion that we create for ourselves when in reality there is no escaping in the first place as life is what it is and they serve a purpose and life is here to stay for as long as we live.
It is true that the experience of anger, sadness and disappointment only exists in our mind and body through our parasympathetic nervous system. These emotions do not exist out there in reality, they exist through our thoughts, experiences and perceptions about what is happening in reality or within our body. If you can grasp this, you will be truly free from the perceived shackles about the reality of your life and begin to interact with life as it is.
When you feel at home with yourself, you would find yourself be in holiday mode most of the time no matter how challenging life is for you. You get to travel within you and enjoy the very existence of you having a human experience.
For example, if we are toiling our days and nights at work, travelling or having a day off would be a great opportunity for us to rest and unwind and we get to enjoy our break in the present moment without having work stress affect our ability to be able to enjoy our well-deserved break.
When we take a break thinking that we are escaping before the break is over, it would daunt upon us that reality would soon set in while we were on vacation and we would not be able to enjoy our holiday or break because we would be thinking about our to-do list that awaits us once the holiday is over.
When we accept that we have duties, responsibilities and roles to play in our lives and we set a clear intention as to why we are doing them, it will give us a sense of purpose to go through the challenges and stress that may come with our duties, responsibilities and roles in our lives.
Stress is necessary to spur us into action and to create a sense of urgency to complete the task at hand.
With the mindset of wanting to perform well in our day to day grind, when it is time for you to go for a vacation, you would welcome the break and enjoy it fully because you know that the vacation will also contribute to your performance in your day to day roles, duties and responsibilities in your life on top of your wellbeing.
Conclusion
Rest and relax and not feel guilty when it is time to take a break because your mind, body and soul need to recharge, we are not invincible beings or robots.
Look within to experience inner peace and not just rely on the external conditions to be ideal, conducive or favourable to make yourself feel joy. Just look at the pandemic, if we do not train ourselves to have self-mastery and experience inner peace, we might end up feeling worst off and miserable throughout.
Can't travel? Who says that destressing has to look a certain way?
You can be creative too when it comes to relaxing.
First and foremost, please acknowledge that void by seeking help and to address it for good.